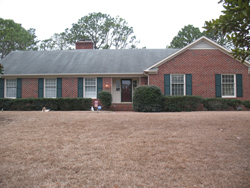 Homes in South Oleander - Highland Hills are well built and lushly landscaped. The home above is typical of the area, click on it for more.
NEIGHBORHOOD STATS
Prices average low - mid 500k's
Home size averages 3000 sq ft
Lot sizes range from .45 acre
Most homes built 1950s - 1980s
South Oleander - Highland Hills area is considered by many to be one of the more prestigious neighborhoods to live in. The homes are large and well built, and the lots are spacious and well landscaped. Located in the middle to town, it is a quick drive downtown or to the beach.
Negatives: The main negative would be that I live in this neighborhood!