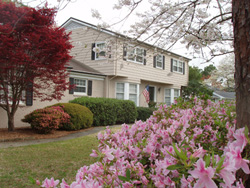 Classic homes and beautiful yards and gardens make Glen Meade a popular and established neighborhood.
NEIGHBORHOOD STATS
Prices average in 300- 500k range
Average home size is 3300 sq ft
Average lot size is .5 acre
Most homes built after 1975
Glen Meade has been a well established, prestigious neighborhood since the 1960s. Its proximity to the region's medical center has made it popular with doctors. One of the most striking elements of this neighborhood is the lush, beautiful landscaping. The area explodes with color in the springtime, when the azaleas and other flowers bloom. The wide streets and sidewalks make it very conducive to walking and biking, and its central location puts it close to both the beaches and downtown.
Negatives: lots of lush landscaping can also mean yardwork is high maintenance.