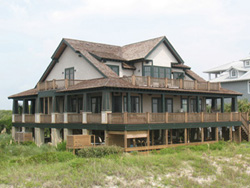 Typical oceanfront home on Figure 8 Island
NEIGHBORHOOD STATS
Prices average in the $2 million range
Average home size is 3500+ sq ft
Average lot size is .5 acre
Most homes built since 1980s.
Figure Eight Island is an extraordinary private island in southeast North Carolina, just north of Wilmington and Wrightsville Beach. There are only around 450 homes on 1300 acres, and it is accessible only by a guarded causeway bridge. The privacy and beautiful beaches of Figure Eight have drawn celebrities ranging from Kim Basinger to Al Gore.
The marshes and beaches of Figure Eight have been carefully maintained to protect the natural environment, and there is no commercial development of any kind on the island. The Island operates a clubhouse, with a pool, tennis courts, marina, and dining area that serves elegant meals in a waterfront setting. The island is ideal for biking, watersports, playing with kids on the beach or taking long, tranquil walks.
Negatives: Living on an island can get expensive, with flood insurance, steep homeowners dues and periodic assessments for beach renourishment. Of course, chances are, if you can afford a $2 million beach house, the other charges are no biggie.