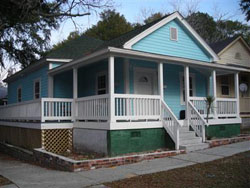 A typical bungalow style home on the south side of downtown. This home was built in 1915 but fully renovated in 2009.
NEIGHBORHOOD STATS
Prices range from 20k - $2 million
Average home size is 1300 sq ft
Average lot size is .1 acre
Most homes built 1910-1940, though there are new homes being built in the area.
The south side of downtown has historic homes with charm and character, but as a whole it tends to be full of smaller homes with less value. While there are signs of renewal, the transitional state of some of the areas are a turn-off for many buyers.
The upside to this area is that you can get a nice historic home at a bargain price and, with luck, the neighborhood will transition positively and return investment.
NOTE: by downtown south, I am referring to the area south of Dawson Street. The roads change from North to South at Market Street, so my definition differs from that one.
Negatives: Historic homes require maintenance, and many of the homes were built before the era of large closets and bathrooms. Many of the homes in the area are smaller and in need of renovation, and some parts of the neighborhood are considered by many to be more edgy.