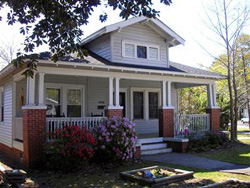 A typical bungalow style home in Carolina Place. Many of the homes are called shotgun bungalows, a term that somebody came up with to describe the front to back openess.
NEIGHBORHOOD STATS
Average home size is 1400 sq ft
Average lot size is .1 acre
Most homes built 1910-1940
Carolina Place is a historic overlay neighborhood that runs along the foot of Wrigthsville Avenue near downtown. Its more of a bike ride than a walk to get downtown from there, but it is still close.
The neighborhood became a very popular neighborhood to invest in back in the 1990s, when the city changed that portion of Wrightsville Avenue to one way, slowing traffic. Since that time the area has been transitioning upward, as homes there have been renovated and updated.
Negatives: Historic homes require maintenance, and many of the homes were built before the era of large closets and bathrooms. Many of the homes in the area are small, in the 1-1200 square foot range.